Animal Day Celebration
Wednesday October 4
11:00 - 14:00 - Atrium
Animal Day
just around the corner
This year we want to do something very special to show our love for animals. We are looking for enthusiastic students who want to participate in a unique Animal Day action at The Hague University of Applied Sciences! On World Animal Day, October 4, 2023, we want to transform the Atrium of The Hague University of Applied Sciences into a playful and happy zoo. But we can't do this without you! We invite you to participate by putting on one of our beautiful animal suits. It promises to be a great experience where you can surprise fellow students, put smiles on their faces and at the same time draw attention to animal welfare on Animal Day. It's easy to participate in this fun and meaningful event. As one of our beasty boys & girls you can offer students little gifts or give free hugs. Just walk by Campus to sign up for the action, the suits are limited! So be back or send us an email [email protected]
Poster sales at THUAS
27 September
8:00 till 17:00 - Atrium
I'm coming out
11 October 2023
11:00 - 14:00 - Atrium
11 OCTOBER
National Coming Out Day
Every year Campus Student Life & Sports pays attention to Coming Out Day. On Wednesday, October 11 from 11:00 AM to 2:00 PM we will place the university under the rainbow again. This year we are doing this again together with the Hague GGD. On this day, a cheerful team of doctors will put the students through their paces in a hilarious way. In addition, there is of course music, glitter and pink cotton candy for everyone who wants to ruffle his/her/them feathers to be ready to go through life as a proud queer.
Start volunteering: [email protected]
Campus Life Style Market No.2
Tuesday November 21
11:00 - 14:00 - Atrium
Campus Life Style Market No.2
For the upcoming Campus Life Style Market we are looking for students with webshops, services to offer, pictures, paintings, foodies, etc. All of the best to show the community of De Haagse Hogeschool to make your business show case as easy as possible for a huge audience. So be bold and start networking on the marketfloor of the university. We offer you help with facilities, advice and we can help you get things running. Let us know your availabilty by: [email protected]
Every year the City of the Hagues organizes a Student DJ Contest
The winner will win excellent line up positions
The upcoming contest will take place in February '24
ONLY FOR STUDENTS IN THE HAGUE
Content from Instagram post can't be displayed due to your current cookie settings. To show this content, please click "Consent & Show" to confirm that necessary data will be transferred to Instagram post to enable this service. Further information can be found in our Privacy Policy. Changed your mind? You can revoke your consent at any time via your cookie settings.
Consent & Show
Good Idea !
Work it out & make it real...
We offer you help with organization and facilities....
Fill out the project form to start up and make things happen....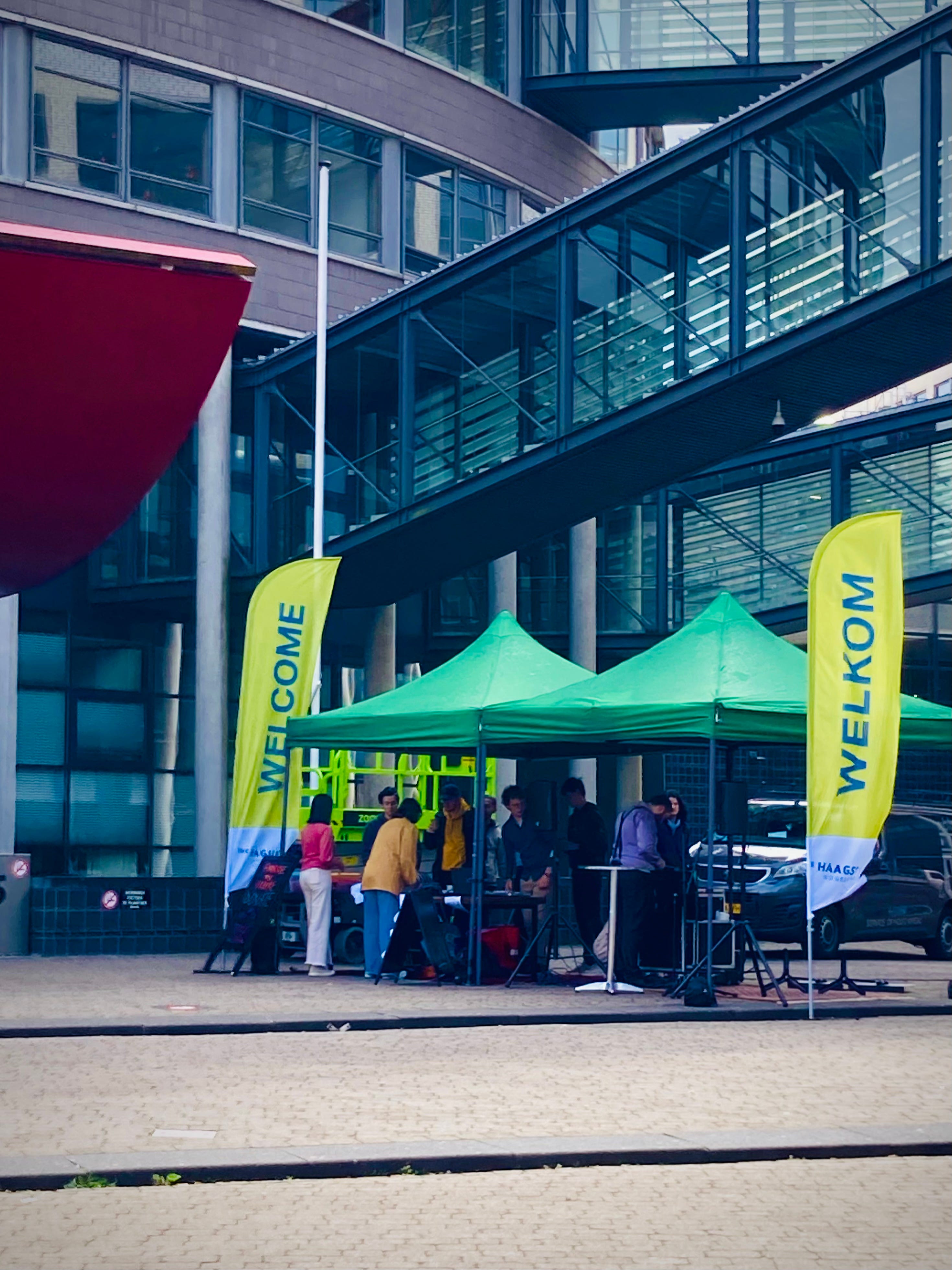 Nederlands
projectformulier
Maak je plannen waar!
Wij helpen je daarbij.
Vul dit formulier in om je project te starten.
Wij nemen dan contact met je op.
Content from Youtube can't be displayed due to your current cookie settings. To show this content, please click "Consent & Show" to confirm that necessary data will be transferred to Youtube to enable this service. Further information can be found in our Privacy Policy. Changed your mind? You can revoke your consent at any time via your cookie settings.
Consent & Show
De Haagse Hogeschool
click to play
Content from Youtube can't be displayed due to your current cookie settings. To show this content, please click "Consent & Show" to confirm that necessary data will be transferred to Youtube to enable this service. Further information can be found in our Privacy Policy. Changed your mind? You can revoke your consent at any time via your cookie settings.
Consent & Show
Winner Student DJ Contest HALO in 2022
click here to play after movie
Content from Youtube can't be displayed due to your current cookie settings. To show this content, please click "Consent & Show" to confirm that necessary data will be transferred to Youtube to enable this service. Further information can be found in our Privacy Policy. Changed your mind? You can revoke your consent at any time via your cookie settings.
Consent & Show
Content from Youtube can't be displayed due to your current cookie settings. To show this content, please click "Consent & Show" to confirm that necessary data will be transferred to Youtube to enable this service. Further information can be found in our Privacy Policy. Changed your mind? You can revoke your consent at any time via your cookie settings.
Consent & Show
Do you like trying out new stuff?
We can help you out! For instance with: organizing markets, fashion shows, art-performances, exhibitions and all your other great inventions for all mankind.
The Hague Highlights
The easy sightseeing tour to explore the city of peace and justice.
Follow the route and you will get to know all kind of historic, political and cultural details about The Hague.
Sightseeing Campus
Discover the inside of De Haagse Hogeschool with this easy walking tour
Reflection Room
click on picture to enlarge
This Reflection Room is available to all students and members of staff who at times need a space for some rest, prayer or any other form of individual reflection. The room has been decorated in calming colours and appropriate furniture. THUAS finds it important to move with the needs of our education, our students and our staff. The use of the room will be evaluated, with the help of its users. This will help us determine whether this set-up meets the needs of students and staff, whether adjustments are necessary and whether there might be a need and possibility for a similar space at our other campuses. Want to be part of the evaluation of the use and development of the Reflection Room? Sign up for the Reflection Group, via [email protected] ​​​​​​​

You will find the Reflection Room at Slinger 3.62. The room is open Monday to Thursday from 8.00 am to 8.30 pm and Friday from 8.00 am to 7.00 pm and is freely accessible without reservation. It is closed on Saturdays and Sundays. Due to the nature of the room, eating / drinking / talking is not allowed.
Your perfect night out
GoneOut provides the entrance price, who will be performing, navigation to the venue by GPS and more practical tips.

Studar
Life can get busy—we understand.
So we believe that organizing your schedule should be as convenient as possible. That's why you can make a check whats happening with us anytime you like, right here on our app. Just choose a time that suits you, and click!